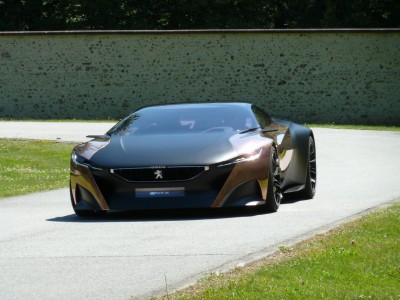 Set to wow everyone with a live demonstration at this year's Goodwood Festival of Speed, this is the Peugeot Onyx concept car. It is a rather special thing to behold as those panels are actually pure copper sheet fashioned by a master craftsman using bare hands! Even stranger is the fact that the metalwork is bare, so over time it will transform through oxidation into a green colour.
The powertrain is also rather special. Within the carbon fibre shell sits a mid-mounted 3.7-litre V8 HDi FAP diesel-electric hybrid power unit developed with the expertise of Peugeot Sport and the experience acquired from racetracks the world over. NACA ducts in the double-bubble roofline supply the intake for the diesel V8 to transmit 600bhp to the rear wheels via a six-speed sequential gearbox.
Intelligent HYbrid4 technology recovers kinetic energy stored in lithium-ion batteries, to be redeployed to enhance acceleration, boosting the power by 80bhp, to give this 'Concept Car' less than 2kg per horsepower, which means Onyx achieves high performance without altering the purity and elegance of its exterior style.
Perhaps the question here is why a production version hasn't already been confirmed. It looks incredible, will no doubt have great performance even with a diesel it should even return some economy too. I'm sure those copper wings could be swapped out for carbon fibre and there you go, Peugeot would have a supercar in their production line up!