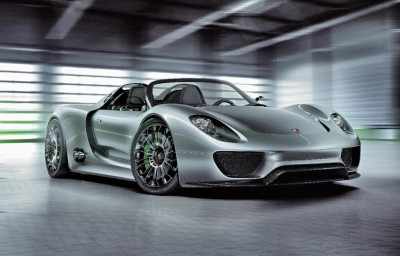 In what will be a limited design run, the Porsche Supervisory Board confirmed development of the 918 Spyder concept for the road – and I for one cannot wait.
This concept version of an ultra-high-performance mid-engined sports car with plug-in hybrid technology made its debut at the 2010 Geneva Motor Show and at Auto China in Bejing, hitting the headlines worldwide.
Michael Macht, President and Chairman of the Board of Management of Porsche AG, said; "Production of the 918 Spyder in a limited series proves that we are taking the right approach with Porsche Intelligent Performance featuring the combination of supreme performance and efficient drivetrain concepts. We will develop the 918 Spyder in Weissach and assemble it in Zuffenhausen. This is also a very important commitment to Germany as a manufacturing base."
The Concept Study of the 918 Spyder allows CO2 emissions of just 70 g/km, corresponding to fuel consumption of 94.1 mpg (3.0 litres/100 km) on the NEDC, combined with the performance of a super-sports car. This extremely efficient drivetrain technology has a natural home in the 918 Spyder given the truly outstanding design and high-tech motorsport achievements for which Porsche is renowned.
So – this Porsche will offer unrivalled mpg, a superb handling platform and masses of power… What is not to like? I just hope that this is one car that lives up to the drama AND the hype. Keep your eyes open for more to follow on this amazing car on Car Articles.