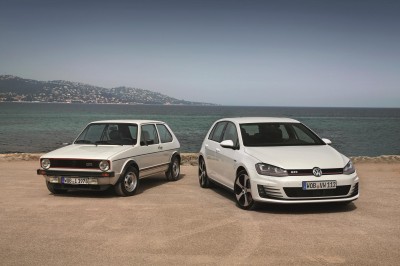 Happy birthday to the Volkswagen Golf!
Few cars are as ubiquitous as the Volkswagen Golf. But why is that? Well, the simple fact is you can't argue with quality, reliability, usability and driving pleasure. There are an abundance of Volkswagen Golfs on the road for the reason that, from Mk1 to Mk7 (and I've no doubt beyond) they are genuinely good cars. This is why Volkswagen has been able to celebrate the Golf's 40th year in 2014.
Whether turbocharged engine, direct-injection engine, electric or plug-in hybrid drive system; whether ABS, ESC, XDS or 4MOTION; whether Adaptive Cruise Control, City Emergency Braking, trailer stabilisation or Automatic Post-Collision Braking System; whether automatic air conditioning, Dynaudio sound system, touchscreen with proximity sensor or LED headlights; whether GTI, GTD or GTE – it was always the Golf through which the most important technologies and trends of our time were democratised.
Here's some information on the current (Mk7) car:
On 4 September 2012, Volkswagen celebrated the world premiere of the seventh generation Golf. The weight of the new Golf was reduced by up to 100 kg, thereby reversing the often cited upward weight spiral. Fuel economy was hence also improved by up to 23 per cent. The new Golf TDI BlueMotion consumes only 3.2 l/100 km (88.3 mpg) (equivalent to 85 g/km of CO2) under standard NEDC conditions. In addition, Volkswagen has equipped the Golf with an entire armada of new assistance systems – some as options and others as standard. In 2014, Volkswagen electrifies the compact class with the Golf: the all-electric e-Golf with a range of around 190 kilometres is already available to buy. In addition, the new Golf GTE will be launched in autumn. Its plug-in hybrid drive system achieves a standard fuel consumption of 1.5 l/100 km; in all-electric mode, the Golf GTE can be driven for 50 kilometres.
The Golf is the most successful model ever built by Volkswagen. In the summer of 2013 the 30 millionth Golf was built. Long live the Volkswagen Golf!