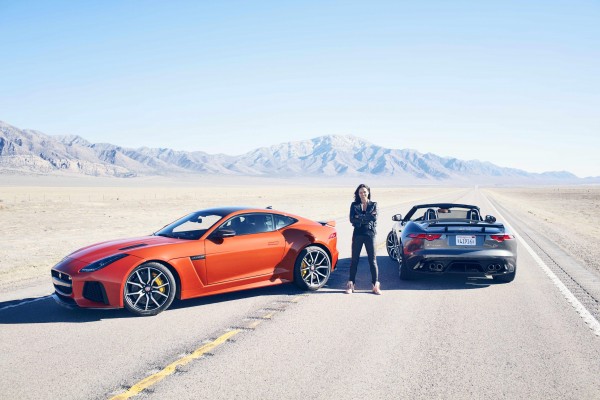 The latest variant of the F-TYPE is the SVR. This denotes that the car has been thoroughly gone over by the Special Vehicles Operations department resulting in it being lighter, quicker, faster and more powerful. Cruicially, it remains useable day to day and has if anything even more curb appeal.
During a recent speed test on a highway in the Nevada desert, Michelle Rodriguez pushed the F-TYPE SVR to a whopping 201 miles per hour – a personal top speed for her. Her previous top speed when driving was 140 miles per hour so that's a significant jump thanks to the fastest ever performance Jaguar.
John Edwards, Managing Director of Jaguar Land Rover Special Vehicle Operations, said:
"Building upon the award-winning F-TYPE was a challenging objective. Everything in terms of handling, design, sound and performance had to be taken to a new level, and is what the new F-TYPE SVR delivers. It is a 200mph all-weather supercar, but above all one that is designed to be driven every day."
The F-TYPE SVR is the first Jaguar SVR and fastest F-TYPE ever. Acceleration from 0-60mph takes just 3.5 seconds, with a top speed of 200mph for the Coupé. Priced from £110,000 for the Coupé and £115,485 for the Convertible, more details are available at the official Jaguar website: www.jaguar.com.