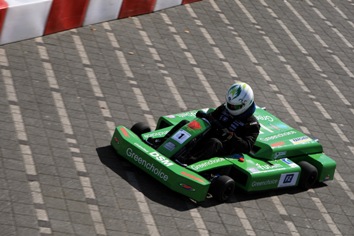 Are you looking for something that will thrill your motorsport senses but won't kill the environment, unlike the usual vehicle sports?  In that case, the 'Formula Zero' championship might be up your street.  The contest pitted teams from five countries against each other, in what was the first ever zero-emissions go kart race.
Each team had a vehicle that produced electricity from hydrogen in the form of a commercial fuel cell.  A Dutch team won the endurance event, whilst the Spanish picked up the fastest lap.  Founded by Dutch motorsport enthusiasts Godert van Hardenbroek and Eelco Rietveld, Formula Zero is already recognised by the Fédération Internationale de l'Automobile, the world's motorsport governing body.
The championship consisted of several events, with teams from the UK, US, the Netherlands, Spain, and Belgium competing for the top honour: zeroth place.  The events included a sprint race, won by a Spanish team called EuplatecH2 with a lap time of 36 seconds. In the endurance event, the Greenchoice Forze team from Delft University took the zeroth place on the podium.
How do I think that this will develop?  Well, fairly simple really.  Whilst it's a good idea, until the teams in such events as F1, F2 and Formula 3 can't actually afford to run their vehicles for whatever reason, we're unlikely to see a huge adaptation to this sort of technology.  Granted, ultimately we'll all be running on some sort of alternative fuel.  Is it tomorrow though?  I don't think so.
Formula Zero stands out as a niche, a novelty.  The last thing that people consider when watching Formula One and well-wishing Lewis Hamilton is that his car is only managing 5mpg.  It's just not a consideration.  If it doesn't bother the man on the street, this story is unlikely to get him pumped.  It does however highlight how times are changing.  I'm of the firm belief that the time is right.  Alternative fuels are now starting to look viable and a move into motorsport (just like Seat's diesel in the BTCC did) could provide a sea change.
If any manufacturer can repeat the success that Audi have shown in the Le Mans 24hr with their derv-powered vehicle, then the world will no doubt sit up and take notice.  Until then, it might well be the case that such events are combined to karts, which may or may not have to frequently refuel to finish the race.  I hope their charge lasts long enough!