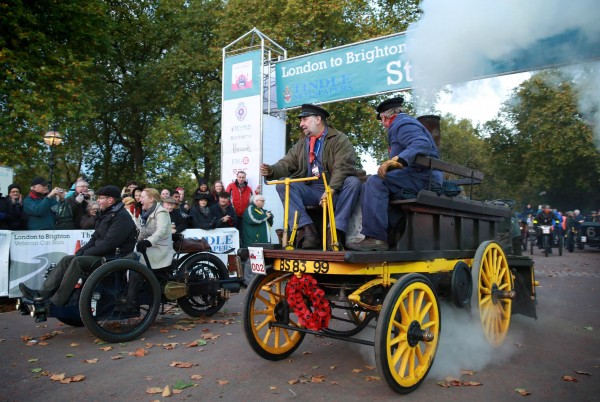 As dawn breaks on Sunday (1 November 2015) more than 400 intrepid drivers and their hardy passengers will deal with whatever the weather has in store to drive 60 miles from London to Brighton. They will be at the wheel – or the tiller – of hundreds of horseless carriages, many of which were built while Queen Victoria was still on the throne.
The first car will leave Hyde Park at 06.54 on Sunday and for the next couple of hours a huge variety of three and four wheel veterans will stream down Constitution Hill, alongside Buckingham Palace and on to The Mall before heading through Parliament Square and past Big Ben on their way to the coast.
The Harrods Stop at Crawley, the official half way point, will provide a welcome refreshment break in a warm, dry environment with ample parking at the Honda dealership for the veteran cars. Honda will be emptying its forecourt and service bays of modern cars to allow drivers to work on their veterans with assistance from RAC Motoring Services and specialist lubricants from Total.
There are ample viewing opportunities along the way, notably in Crawley High Street where a knowledgeable commentary team will give some background on the veterans on their passage through. In addition a time control check has been established which will provide the perfect opportunity for photos as the cars stop to have their cards "stamped". The first cars are expected to pass through Crawley from 08.15 with the last leaving at about 13.45. Brighton expects its first arrival just before 10am with the last finishers 'putt-putting' in at 4pm.
As well as cars powered by petrol and some by steam, there will also be a few battery-powered electric vehicles making their way to Brighton.BBC DJs Chris Evans and Ken Bruce, along with Alex Jones from The One Show and Zoe Ball, will be following the Run in two vintage buses, each filled with successful bidders who together raised almost £350,000 for BBC's Children in Need.
More information on the Run can be found at www.veterancarrun.com.